[Exclusion] by [Inclusion]?: About the Problem of Idée Fixe
Nieuwenhuizen-Yliniva, Frank (2017)
---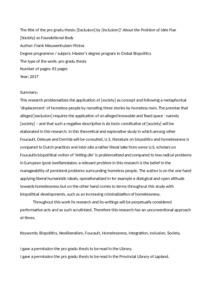 Nieuwenhuizen-Yliniva, Frank
Lapin yliopisto
2017
openAccess
Julkaisun pysyvä osoite on
https://urn.fi/URN:NBN:fi:ula-201711071362
Tiivistelmä
This research problematizes the application of [society] as concept and following a metaphorical
'displacement' of homeless people by narrating three stories by homeless men. The premise that
alleged [exclusion] requires the application of an alleged knowable and fixed space - namely
[society] – and that such a negative descriptive is de facto constitutive of [society] will be
elaborated in this research. In this theoretical and explorative study in which among other
Foucault, Deleuze and Derrida will be consulted, U.S. literature on biopolitics and homelessness is
compared to Dutch practices and inter alia a rather literal take from some U.S. scholars on
Foucaults biopolitical notion of 'letting die' is problematized and compared to less radical problems
in European (post-)welfarestates: a relevant problem in this research is the belief in the
manageability of persistent problems surrounding homeless people. The author is on the one hand
applying liberal humanistic ideals, operationalized in for example a dialogical and open attitude
towards homelessness but on the other hand comes to terms throughout this study with
biopolitical developments, such as an increasing criminalization of homelessness.
Throughout this work its research and its writings will be perpetually considered
performative acts and as such scrutinized. Therefore this research has an unconventional approach
at times.