Towards accessible hospitality : intersectional approach to rainbow tourism
Harju-Myllyaho, Anu (2018)
---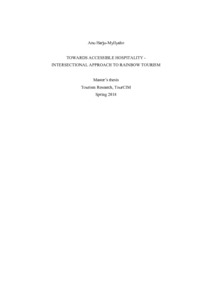 Lapin yliopisto
2018
openAccess
Julkaisun pysyvä osoite on
https://urn.fi/URN:NBN:fi:ula-201802131036
Tiivistelmä
Accessibility and inclusion in tourism have increasingly gained attention in the last decades. However, the research has until recently focused mainly on single viewpoint of the phenomenon. That is the one of physical accessibility. While the development has been positive, there still has not been a lot of research done on accessibility in tourism, which would cover the wide range of viewpoints around accessibility. Along the physical viewpoint, these include also economic, cultural, communicational and political viewpoints, for instance.

Previous studies show that there is certain movement towards tourism for all, which is a wider approach to accessible tourism following the line of thought of design for all. This study aims at addressing a notion that would go beyond tourism for all, accessible hospitality. This notion was developed at Multidimensional Tourism Institute (MTI) during a project that highlighted diversity among tourists. The general aim of this study is to investigate the concept of accessible hospitality by using intersectionality as an approach. Intersectionality has had a minor role in tourism studies, and the research has mainly focused on the viewpoint of the host communities.

Intersectionality takes into account the people's various backgrounds that place them in different positions in terms of power relations within the society. This study focuses on social media discussions between tourism companies, rainbow tourists and non-rainbow tourists. The data is collected netnography. By approaching the issue of accessible hospitality and the rainbow tourist through intersectionality the study helps understanding accessibility and inclusion in tourism from a broader viewpoint. A discourse analysis is conducted understand how accessible hospitality is generated in social media content between tourism companies and customers.

As a result, three different discourses are constructed and further elaborated for future implications. The study pilots a deeper, more insightful and complex approach to accessibility in tourism by using intersectional approach. Ethical viewpoints include issues with addressing minorities as well as using netnography.