STANDARDIZATION IN WORKSHOP DEVELOPMENT: An SAP d-shop case study
da Silva Branco, Erico (2018)
---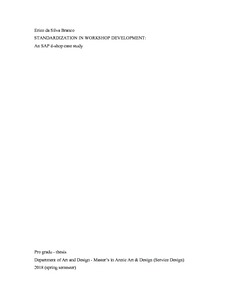 Lapin yliopisto
2018
openAccess
Julkaisun pysyvä osoite on
https://urn.fi/URN:NBN:fi:ula-201805151175
Tiivistelmä
In the technology sector, it is crucial to foster and maintain a workforce which is up-to-date with the latest advancements in this fast-paced industry. Companies of SAP's magnitude have also the large size and employee diversity as added factors in this equation. In order to keep employees updated, there are a series of measures taken by SAP to ensure their access to quality information, be it internally or externally sourced. Among these, there is the d-shop. It differs from other enablement initiatives and products in SAP by its practice-centered approach and bottom-up operation, in many ways inspired by the maker movement. The approachable, decentralized management and operation of d-shop, while being one of its main highlights, is also at times one of its weaknesses. The initiative's openness to collaborative content creation results in a diverse pool of authors, and, consequently, a big variance in type of content and presentation style. It is indeed a two-sided coin, representing both the embodiment of what a grassroots initiative stands for (free, malleable and adaptable), but also a logistics challenge in efficient content transfer and consistent user experience terms.

Addressing these two conflicting issues, a framework for content structuring and delivery will be proposed in this project, while honoring the grassroots ideals of inclusiveness which are the cornerstone of d-shop initiative. Sterling Software Inc, an SAP partner, describes their solutions implementation in a way which perfectly describes the opposing forces dealt with in this project:

"Through a balanced focus on both standardization and flexibility, we deliver business process expertise and best practice guidance…"
(Sterling Software Inc, 2017).

This proposal's purpose is, therefore, not restricting the d-shop's liberty in developing and delivering workshops, but rather facilitating the transferring of information and promotion of a consistent branding/presentation tone for d-shop's content. This would also result in the maintenance of quality consistency in user experiences and expectations when engaging the initiative.

Due to the great level of autonomy each d-shop location enjoys, the outcomes of this project will be considered guidelines of voluntary implementation, rather than topdown enforced measures. This malleability is seen as beneficial, as there is no way to foresee all the needs and possible applications of this project's outcomes in the future, especially in a global context. The possibility to tweak and update the project's outcomes as time goes by only aggregates value to them, serving as a foundation to build upon rather than a punctual and short-lived intervention.