The Key to Sustainable Migration Management : Building up Cohesion, Capacity and Choices in the European Union Migration Partnership Framework
Kokkonen, Elina (2018)
---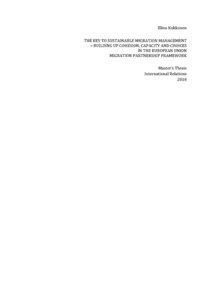 Lapin yliopisto
2018
openAccess
Julkaisun pysyvä osoite on
https://urn.fi/URN:NBN:fi:ula-201806201250
Tiivistelmä
This thesis examines how the European Union Migration Partnership Framework
represents a partial shift in the European Union policies in a new direction, where
migration and development policies are seen intertwined and mutually beneficial in
order to manage migration in a sustainable manner that works for all partners. The
European migration crisis has caused turmoil within the EU and its Member States, and
the Migration Partnership Framework presents various tools that ought to affect the
irregular movement of people to the EU.

The material of this research is compiled of the EU documents on the Migration
Partnership Framework that was launched in June 2016. Since its launch, five progress
reports and various additional papers on the implementation and experiences of the
Framework have been published. The analysis of the material has been conducted by
following the principles of theory guided content analysis and the chapters of analysis
have been constructed based on the notion that policies configured on the idea of
partnership are looking for a 'win-win-win' solution.

The choice of the EU to emphasise the notion of partnership and harness development
for the purpose of managing migration invoked my interest to study the Framework
through a neoliberal point of view, especially focusing on the theoretical debate
concerning neoliberal governance. Due to the focus on the migration-development
nexus, it is also relevant to discuss the relation between governance and development
within this thesis.

This research into the European Union Migration Partnership Framework has revealed
that even though there is a shift towards the empowerment of the partner countries in
migration and development policies, the actions presented in the name of partnership
are in fact characteristic of the forms of neoliberal governance. The tools presented in
the Framework attempt to build up cohesion, capacity and choices, but in a way that is
most suitable for the EU.