Open Museums: Audience Development in the Museums of Finnish Lapland Strategies, Methods and Steps Towards Future
Hämäläinen, Heidi (2018)
---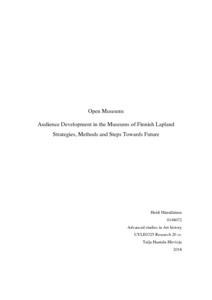 Lapin yliopisto
2018
openAccess
Julkaisun pysyvä osoite on
https://urn.fi/URN:NBN:fi-fe2018062026210
Tiivistelmä
This Laudatur-study presents the first steps towards wider monograph about museum's
audience development and social inclusion as a strategy for future museum on the field
of Finnish and German museum with a current title: Finnish and German Audience
Development – The New Definition of Social Inclusion for the Future Museum. In this
study I have used the data collected from Finland, to be more accurate, from Lappish
museums: Rovaniemi Art Museum, Lapland Regional Museum, Tornionlaakso
Regional Museum, Aine Art Museum, Kemi Art Museum and Kemi Historical
Museum. The data collected from these museums consists majorly from documents
chosen by the staff that is linked on their work with the audience and museum
educational activities and projects. This type of data is for example formal and informal
project plans, unprinted data used inside the staff, project reports, leaflets and so on. I
also sat down with a few of the staff members and the notes about the conversations are
included in this data as well. The data collected for my pilot-non-visitor-research in Old
Market Square Carnival of Rovaniemi on August 2016 developed into an informal
report that is used in this study shortly. The purpose to present this data in this study is
to emphasize how complicated reaching actual non-visitors or non-users might be, as
almost all of the repliers could be considered as visitors. Literature plays a significant
role by setting the example and views towards future as a comparable theory. This study
is also strongly influenced by the conversations and discussions from Finnish-German
Museum Forum held in Berlin on October 2017.
The aim of this study is to ground the idea of stronger inclusive thinking for future
strategy, point out the theoretical and practical obstacles of this development and
encourage the professionals of the field to take objective viewpoints on the practices
that are still remaining on the level of modernist museum while the literature is so
clearly guiding us to take the steps towards post-museum – the ideal democratic
museum.