Embrace multiculturalism through arts-based workshops: Qualitative evaluation using visual representations.
Douranou, Kalomoira (2018)
---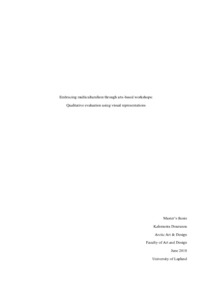 Lapin yliopisto
2018
openAccess
Julkaisun pysyvä osoite on
https://urn.fi/URN:NBN:fi-fe2018062026224
Tiivistelmä
The present study examines the 'My stage / Mun stage', a participatory theatre workshop supporting
bi-directional social integration of women in Finnish Lapland, as a case study within the intersection
of culture and design. Five to ten women from different cultural backgrounds shared and created
collectively a story of their past, present and future in Finnish Lapland. During the sessions, arts and
design based methods were used such as, visual representations, expectation maps, storytelling and
writing, enacting and body-storming and the method of Play-back theatre.
This study responds two main research questions: 1) 'what are the challenges faced while organizing
and facilitating multicultural arts and design based workshops?' and 2) 'to what extent does taking part
in arts / design workshops assist social integration?' The study contributes to the academic discourses
concerning multiculturalism at the intersection of social sciences and the field of arts and design. The
conceptual framework investigates the themes of design management, arts and design research
methods and visual representations of different evaluation techniques, within the aim of embracing
multiculturalism.
This is a qualitative study for which, three different ways of evaluation were implemented: a visual, a
physical and an oral questionnaire; together with field notes, a visual diary and audio & video
recordings throughout the workshop sessions, enable diverse responses to the study's research
questions as well as suggestions for future 'My stage / Mun stage' participatory theatre workshops.
Despite the small sample, the findings raise important issues considering the implementation of arts
and design based projects. The results of the study show that the development and implementation of
such projects face limitations considering space, time, verbal & non-verbal communication and
participants' expectations and suggest that more research needs to be done in order to evaluate,
validate and sustain such projects.
'My stage / Mun stage' workshop's research results suggest that such projects should consider the
target group's needs which, according to participants reflexions, is the necessity of space and time to
interact, meet new people and create something together. The sufficiency of the Finnish language shall
be taken under consideration to formulate groups with similar level of understanding, in order to avoid
false interpretations. Considering time constrains, the duration of the workshop is suggested to be
shorter than three hours that it was, but more intense than once per week as it took place while
participants' presence shall be mandatory. The clarification of the preferable target group is needed
while planning such workshop; arrangements for the place can be sufficiently made early enough and
the skills of the future participants shall be taken under consideration in terms of a co-design process.
Visual material of this workshop could be used in order to engage participants in a future 'My stage /
Mun stage' participatory theatre workshop. Enacting and body-storming have been considered as the
Page |
4
most preferable methods used during the 'My stage / Mun stage' workshop. Although the study's
results indicate that the sessions' process can be therapeutic, the relation between 'arts and design
based methods' and 'applied personal skills' is not being understood as a direct and unconscious
connection; therefore, the research results set an open challenge for the Faculty of Art and Design of
how to approach, get involve, and persuade that arts and design based methods can be applied in a
socially valuable way.