The use of storytelling in online foreign language learning : a case study of a basic English grammar course provided to Vietnamese adult e-learners
Ngo, Ha (2018)
---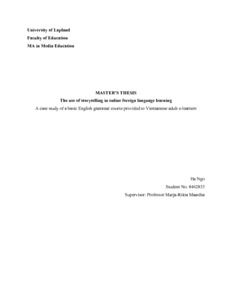 Lapin yliopisto
2018
openAccess
Julkaisun pysyvä osoite on
https://urn.fi/URN:NBN:fi:ula-201806261268
Tiivistelmä
Online education has gained enormous popularity thanks to the advancement of technology and the Internet. Not only do students learn from Massive Open Online Courses but they also utilize social media such as Facebook for learning. However, online classes have been criticized for the lack of interactions and sense of community. These factors are interestingly the advantages of storytelling. Hence, incorporating storytelling in online education could bring a solution to this problem.
By applying the PACE model – a storytelling-based pedagogical model – in a case study of an English grammar online course designed for Vietnamese adult learners at the beginner level using Facebook Livestream and Facebook group as the online platform, this study expects to give an insight of the online use of storytelling in a specific context. Furthermore, this research aims at finding how the use of storytelling and the PACE model could facilitate the learning development of learners. Moreover, this thesis intends to further develop the use of storytelling and the PACE model to be more suitable in the online learning environment.
The results of this study indicate that storytelling could be useful in online classroom regardless of oral, digital or written formats. Furthermore, contents, images and sound of the stories should be paid attention to when preparing and conducting the storytelling sessions. In addition, the findings suggest that the use of the PACE model has impact on students' learning development in three aspects: interpersonal, historic-cultural, and individual. Besides, teachers should be aware of potential problems related to Internet connection, group work, the use of single devices while applying the PACE model in online learning.