The scope of private life of a public person in Finland and France
Willman, Minna (2018)
---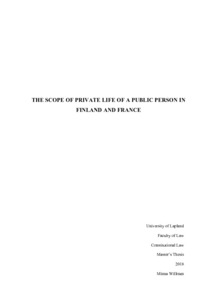 Lapin yliopisto
2018
openAccess
Julkaisun pysyvä osoite on
https://urn.fi/URN:NBN:fi:ula-201807041294
Tiivistelmä
This thesis will aim to discover how Finnish and French law balance two seemingly contradictory constitutional rights: right to private life and right of expression. This thesis will use a functional comparative legal study approach to the topic in order to construct and provide a cohesive picture of each legal culture.
Objective and accurate description of each legal culture requires a careful study of both history of the press and the development of individual's rights. Democratisation and individualism created a society where the smallest protected unit was not a family but an individual. For the first time, it was acceptable to choose how much information a person wanted to share with each social community.
Freedom of thought and more notably, freedom to share ones ideas is realised by a free press. Transparency in a democratic society has been protected by giving freedom of expression the value of a constitutional and civil right. Politically powerful individuals' accountability to his voters has been acknowledged by limiting their right to protection.
With a greater access to information, there is also a responsibility to write and publish information that's truthful and respects the core are of privacy. Line between what's private or public is mostly drawn in legislation, court practice and inside the press by a common code of conduct. European Union law and European human rights law have a synchronizing effect on national law. Especially ECtHR case law has and continues to have a decisive role in the development of each legal culture.