Understanding cross-cultural service encounters between finnish hotel employees and chinese guests : the perception of hotel managers in Helsinki and Rovaniemi
Linnanen, Pauliina (2018)
---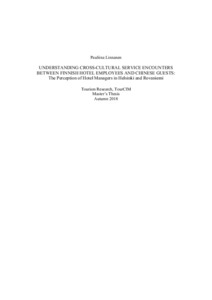 Lapin yliopisto
2018
All rights reserved

Julkaisun pysyvä osoite on
https://urn.fi/URN:NBN:fi:ula-201811091424
Tiivistelmä
Chinese outbound tourism has become one of the most exciting phenomenons in the Finnish hospitality industry. Over the last decade, Finland has experienced a major boom in tourists' arrivals from China – the number of overnights by Chinese tourists has increased more than fourfold in the last seven years. As a result, the hotel industry is reaping the benefits of Chinese tourism growth by developing strategies to attract those high-spending Chinese tourists. To stay relevant and ahead of the competition, the ability of hotels to cater to the needs of different cultures is a critical factor for success.

The main objective of this study was to gain an understanding of cross-cultural service encounters between Finnish hotel employees and Chinese guests by taking their cultural background into account. The study obtained qualitative data from semi-structured faceto- face interviews. Interviews were conducted from the hotel managers' perspective, who worked at supervisory or managerial levels at hotels in Helsinki and Rovaniemi. The data was analyzed through content analysis by utilising both deductive and inductive coding approaches. The Hofstede's framework of cultural dimensions and Hall's high- and lowcontext communication were taken as the deductive base for the analysis.

Based on the interviews, different cultural issues were identified, which significantly impacted Chinese and Finnish cross-cultural service encounters in a hotel context. Those cultural issues were divided into six categories, referring to the conceptual frameworks. The six categories are Finnish egalitarianism in service encounters, Chinese travelers as social beings, testing the comfort zone of Chinese and Finns, asking for exceptional favors, dealing with language barriers, and interpreting non-verbal cues.

The results showed that Finnish hotel industry should take a broader view of Chinese cultural requirements and cultural expectations. With the differences in service culture between Asians and Westerners, Chinese travellers differed from their Western counterparts in terms of social behaviour and interpersonal communication. The results suggest that in order to stay competitive in the market, hotels should be well-prepared to accommodate the cultural-specific needs of Chinese tourists and to offer them social and psychological familiarity and comfort.