DESIGNING TEN TOWERS – WEAVING TEN STORIES : Environmental art as a tool in development of cultural and creative tourism in Finnish Lapland
Kravtsov, Tatiana (2018)
---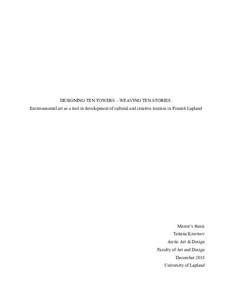 Lapin yliopisto
2018
All rights reserved

Julkaisun pysyvä osoite on
https://urn.fi/URN:NBN:fi:ula-201901111011
Tiivistelmä
The present study observes environmental art as an artistic practice, which intends to be present, respond to a specific situation, with reference for past and gaze for future. This study was developed as a part of Environmental Art for Tourism project (YMA – Ympäristötaidetta matkailun alueille), a collaborative project between the University of Lapland's Faculty of Art and Design, the Artist's Association of Lapland, and local tourism enterprises. The main goals of YMA project were: to support collaborative practices, to increase the use of environmental art in development of tourist services and high-quality nature tourism environments, to develop environmental art plans for the partner companies. The project took place in Experience Village Tonttula, located in Kittilä, Finnish Lapland. With a focus on the heritage assets from cultural and natural landscape of the place, a concept for environmental artwork, ten towers – ten stories, was developed and visualised. The suggested artwork is a concept for new experience service – a walking bridge constructed of ten towers, each intends to tell a story related local culture, nature and traditional beliefs.

This study pursues several purposes: first, to examine and demonstrate the potential of environmental art as a tool in successful collaboration between artists and tourism companies, which can be beneficial for both; second, to show how environmental art can assist in creating high quality authentic experiences for the development of cultural and creative tourism; third, to compose artistic practice and research together, applying methods from both applied visual arts and service design disciplines, with a focus on the process. The research strategy was art-based action research, which assisted to carry out practical and theoretical practices side by side, with a focus on the process and action. The main working methods were: place-based, iteration and prototyping.

The results of the study can be examined from two directions: of what has been done, and how it has been done. The result of artistic practice is the developed proposal for environmental art work, that can be implemented on the site and function as a new experience environment for tourists. The design process shows how the situation has been approached and developed. The results of this study can be considered as meaningful and beneficial in both personal and broad levels. In a personal level, the results are reflected in gained knowledge, experience and skills in the field. In the broad level, the results aim to demonstrate the potential of multicultural and multidisciplinary collaborations, which are needed for future to fulfil the demands of rapidly developing world. This study aims to contribute to the academic discourse concerning environmental art practices and collaborative activities between arts and design field and tourism industry, particularly in the north. I hope to encourage artists and designers for further research in the field, which can reveal new possibilities for northern cultural, social and economic well-being, and increase the use of environmental art in the development of high-quality, sustainable environments.