Puiden ympäröimä : Pohjoisen puiden pinnat tekstiilimuotoilijan silmin
Tuovila, Tanja (2018-12-19)
---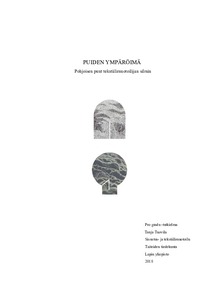 Lapin yliopisto
19.12.2018
Julkaisun pysyvä osoite on
https://urn.fi/URN:NBN:fi-fe201902054031
Tiivistelmä
In the thesis surfaces of trees in the northern area have been observed through the eyes of a textile designer. The objective is to get a deeper multisensory understanding of surfaces of trees and to utilize it in surface design as a part of a restorative environment design. Weaving as an artistic method produces practice-based knowledge.
The research is etnographic and it progresses in dialogue with personal observations and theory as a hermeneutic circle. Aspect of phenomenologal aesthetics have structured the interpretation of the research subject. The empiric material has been gathered from a defined geographic area through observation and photography. In addition to photographing a research journal was worked as a way of documentation. The artistic process has been divided into two: a material gathering period in the forests and a working period by weaving.
Through the research a forest opened, where trees live surrounded by arctic conditions, organisms and people. A mysterious, important and meaningful world. Empiric material and theory helped to form themes, that were utilized in the art works during the artistic part. The themes were: barks, dead standing tree, rotten wood, fungi, moss & lichen and pattern & color.
Forest and prosperous trees has been shown to offer feelings of well-being and to lower stress. Through environment design and art you can get close to experiences of nature. Especially woven fabric can replace the textures of nature and satisfy the psychological need for textures. An engram of an nature that might be retrieved through textiles can be enhanced with material, colors, patterns, forms and quality of light materials.
Merely the surfaces of trees in the arctic give a large interpretative palette for a textile designer - not to mention the whole forest.