Creating capable refugees : UNRWA and the formation of Palestinian refugee subjectivity through human development
Laurila, Maija (2019)
---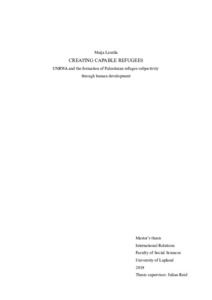 Lapin yliopisto
2019
Julkaisun pysyvä osoite on
https://urn.fi/URN:NBN:fi-fe2019040210896
Tiivistelmä
The thesis seeks to answer how The United Nations Relief and Works Agency for Palestine Refugees in the Near East (UNRWA) and its human development goals can affect Palestinian refugee agency and subjectivity. Human development is analysed through a theoretical framework of neoliberal governmentality and biopolitics in order to understand the way in which refugees are to conduct themselves. In the thesis it is assumed that human development can have an impact on refugee subjectivities and that it includes its own rationale on how life is to be administered. Sources include UNRWA's publications which are interpreted using qualitative content analysis.

According to the analysis a permanent state of emergency and vulnerability of the Palestinian refugees are conditions for UNRWA's government of the refugees as a population. As interventions carried out in the name of human development are concerned with how human life is to be supported, sustained and steered they take on a biopolitical character. Furthermore, as they are informed by the economic knowledge underpinning neoliberal rationality, the desired form of subjectivity in human development also needs to conform to this knowledge. Even though human development focuses on expanding human capabilities and non-economic indicators of development such as healthcare and education, they become rationalised as means of accumulating human capital and the emergent subject should be able to utilise this capital in a productive way.

Though UNRWA's operations assume vulnerability of the refugees and pursue a specific form of subjectivity through neoliberal governmentality, the refugee status administered by the agency can also serve as a position from which political demands can be made. UNRWA's development programmes have occasionally been opposed by Palestinian refugees themselves for turning attention away from the politics of their condition. These actions presenting alternative refugee subjectivities have been labelled as dangerous and undesirable by the agency in turn. Critical assessments of governmentality and biopolitics could open up new ways of understanding how both these alternative subjectivities and conditions for existence, experience and action are produced.