Experiencing nature-based tourism through the human senses : a phenomenological approach
Nguyen, Tran; Phuong, Khanh (2019-04-15)
---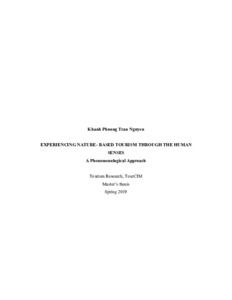 Nguyen, Tran
Phuong, Khanh
Lapin yliopisto
15.04.2019
Julkaisun pysyvä osoite on
https://urn.fi/URN:NBN:fi-fe2019041512378
Tiivistelmä
Nature-based tourism has become one of the fastest growing sectors within the tourism industry, due to an increased demand for better recreation and relaxation means in nature at the turn of the 21st century. While nature-based tourism has received much of academic and general attention, the same cannot be said about the influence of the human senses on nature-based tourism experience. In fact, it was only until very recently that the academic community started paying attention to the importance of the senses and attempted to discover a more holistic way to approach the sensescape.

The purpose of this master's thesis is to discover the influence of the senses on nature-based tourism experience. Given that the study in question is phenomenological, a qualitative approach was adopted to best understand the research subject. A number of semi-structured interviews were conducted to gain an insight of how each individual perceive the influences that the senses have on their overall experience in nature.

The results showed that while the senses have actual influences on one's experience in nature, not all the senses have such impact equally. Sight appeared to be the dominant sense, followed by hearing, with the remaining senses being secondary in importance. Furthermore, the interview sessions also revealed an appreciation for nature and nature-based tourism, which is a common sentiment among the participants. Further research should pay attention to the interactions between the senses, as well as the utilization of experiential point during the experience design phase.