A vegan perspective on animal-based tourism services : thematic analysis of blogs
Alekova, Gergana (2019)
---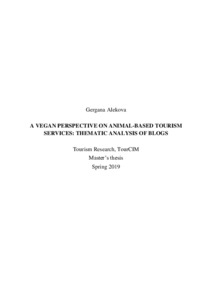 Lapin yliopisto
2019
Julkaisun pysyvä osoite on
https://urn.fi/URN:NBN:fi-fe2019061320347
Tiivistelmä
The present study focuses on the perspective of vegan consumers in regards to animal-based tourism services and addresses the need for understanding the changing values in society concerning the use of animals for tourism and entertainment purposes. In this regard, the study applies theoretical concepts from the fields of animal tourism and animal ethics and
approaches vegans as a growing segment of ethical consumers whose consumption practices have already significantly impacted the market and will undoubtedly continue to do so. As such, the aim of the present study is to understand how vegan consumers express their ethical considerations regarding animal-based tourism services.

The study employs a qualitative methodology based on netnographic principles. An inductive thematic analysis was conducted on a data set of eighteen blog entries written by vegan bloggers on the subject of animal-based tourism. The analysis revealed that the participants made a clear distinction between what they considered to be either ethical or unethical animal-based tourism services based on four categorizations of attributes concerning the operational practices of said services; conditions of captivity and animal wellbeing, practices of acquisition, training and disposal, environmental and social impact, and operational
purpose and objectives.

The results of the study indicate that the participants showed adherence to an animal rights and ecofeminist perspective, in addition to explicitly opposing speciesist practices on the part of the tourism industry. In this regard, the participants demonstrated a tendency towards boycotting profit-oriented animal-based tourism services that operate mainly for the purpose
of visitor entertainment and satisfaction and incorporate such practices as wild animal capture, animal breeding, training of unnatural behaviours, and killing of undesired animals. In contrast, the participants advocated for positive purchasing as a means of expressing favour and support towards non-profit institutions, such as animal sanctuaries and various animal foundations that operate on the principles of rescue, rehabilitation and release. As such, the participants demonstrated a tendency towards economic voting practices aimed at inspiring ethical developments regarding the use of animals in the tourism industry.