The future of travel service intermediaries : a qualitative research into Dutch millennials' attitudes
Smit, Daphne (2019-06-14)
---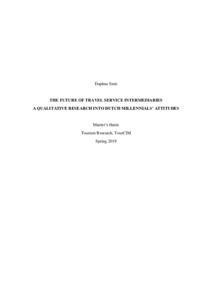 Lapin yliopisto
14.06.2019
All rights reserved

Julkaisun pysyvä osoite on
https://urn.fi/URN:NBN:fi-fe2019061420612
Tiivistelmä
Travel intermediaries like (online) travel agents and tour operators are facing an uncertain, but exciting future with technological innovations and changing customer needs. Millennials are the new generation of travellers that travel intermediaries will be faced with and are already dealing with. Travellers born between 1986 and 2000 are said to have different needs, motivations, attitudes and behaviours towards travelling than previous generations. Despite the popularity of millennials as a discussion topic, millennial travellers and their future use of travel intermediaries have been left relatively untouched by academics.

The aim of this study is to identify the millennials' attitudes and behaviour regarding the use of travel intermediaries to understand and predict changes in the travel intermediary industry. The theoretical framework focusses on consumer behaviour and attitudes. It uses the Theory of Planned Behaviour (TPB) by Icek Ajzen (1985) to understand behavioural intentions that could impact the future behaviour of Dutch millennials towards travel intermediaries. Different from most studies that implement the TPB, this study has a qualitative approach. The empirical data concerns 13 semi-structured interviews with Dutch millennials. Theory-driven content analysis with both deductive and inductive coding was applied.

This research's findings indicate that millennials are not a homogenous group and it is not possible to apply a ''one-fits-all'' strategy to travel intermediaries. By following the TPB, future intention cannot be simply divided as using / not using intermediaries. Rather, the beliefs, feelings and previous experience an individual holds about each type of travel intermediary leads to the decision to use a specific type of intermediary in each separate vacation. This indicates the importance of situational context in travel booking. The role of travel middlemen is not under threat by millennial attitudes, however, there is a changing need and taste for them amongst the millennial generation. Furthermore, this study found connections between pre-trip planning (fun), trends, personality and consumer behaviour of Dutch millennial travellers. Based on the research's findings, future scenarios of intermediaries for millennials are drawn that can be utilized by the travel industry. Recommendations for future research include other nationalities, generations or millennial families.