Promoting Conservation Values for Preschool Children through Play-Based Learning in Ecotourism
King, Heli (2019-11-13)
---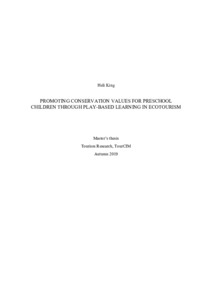 Lapin yliopisto
13.11.2019
All rights reserved

Julkaisun pysyvä osoite on
https://urn.fi/URN:NBN:fi-fe2019123049426
Tiivistelmä
Ecotourism provides a favourable context for raising environmental awareness and promoting conservation through education and interpretation and by affording experiences in nature. Experiences in nature are believed to lead to increased concern for the environment and pro-environmental behaviour. There is a considerable amount of research on ecotourism's impact on pro-conservation knowledge, attitudes, and behaviour but not much research on ecotourism's role in contributing to conservation values in children. Research on connecting early childhood environmental education with play-based learning is growing. The benefits of play-based learning are grounded in research and play and learning are considered interrelated phenomena.
This multidisciplinary thesis connects tourism research and education, aiming to under-stand how preschool children can learn about the natural environments and the importance of conservation in the ecotourism context. Drawing upon the notions of ecotourism and play-based learning, the main research question of the study is: How can play-based learning promote conservation values for preschool children in an ecotourism site?
The thesis explores what are suitable methods and tools to familiarise preschool children with the environment and nature, and promote conservation values for them through play. It also aims to find out what is the role of adults in play-based learning that pro-motes conservation values. The empirical data was collected through qualitative research consisting of eleven semi-structured interviews with professionals and experts in the fields of education, tourism and conservation, as well as participant observation with preschool aged children in three different nature-based play settings.
The findings indicate that for preschool children to learn about the environment and establish conservation values requires developing a love for nature through regular experiences in natural environments. The message of the interconnectedness of nature is some-thing that preschool children need to understand to develop an interest in protecting the environment. Ecotourism places should provide opportunities for unstructured nature play for preschool children and communicate the message of interconnectedness in their education and interpretation. The role of parents and other close adults in preschool children's lives have an important role in supporting and facilitating the learning of conservation values through play. Evidently, ecotourism providers should consider ways of attracting more families with young children, especially local families, to build future advocates of conservation.
Keywords: ecotourism, education, play-based learning, conservation values, preschool children.