The Social Construction of Nepalese Rurality: A Finnish Tourists' Perspective
Gurung, Bikash (2020)
---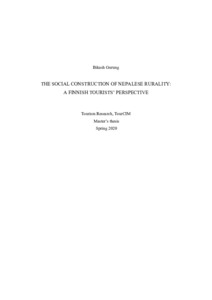 Lapin yliopisto
2020
Julkaisun pysyvä osoite on
https://urn.fi/URN:NBN:fi-fe2020061142783
Tiivistelmä
The concept of rurality varies depending upon the individual experiences of tourists and their cultural background. Some might relate it to gastronomy and others might relate it to local community, culture or even landscapes. Since it has such varieties of cultural meanings and styles of living, deconstruction of rurality becomes rather challenging. In the case of Nepal, with over 81% of the total population living in the rural areas, rural tourism has always been one of the most important factors for economic growth and poverty reduction in rural areas.

The aim of the study is to find out what kind of meanings do the Finns construct of rurality in Nepalese context. It examines the viewpoints of the Finnish tourists in three major themes i.e. rurality in general, hospitality and authenticity with the help of research questions focusing on (1) social and cultural meanings that Finnish tourists in Nepalese context, (2) host-guest relationship between the locals and Finnish tourists and its affects conceptualising rurality, and (3) role of authenticity on creating rural identity for Finnish tourists.

The research method of the study is qualitative with interview as primary method. The semi- structured interviews are carried out with seven different tourists of Finnish origin who have travelled to and spend few weeks in a rural destination of Nepal.

The study results showed that location attributes, contrast living lifestyles and social norms forms the socio-cultural meanings of rurality in Nepalese context. Similarly, construction of meaning of rurality can also be explored through language and active engagement with the local community. Lastly, authenticity is considered to be a motivation for Finns to travel to rural destinations and they have individual perceptions on how they construct the meaning rurality.

The research can provide an insight to the present rural tourism scenario of Nepal. The responses of these tourists can further be used as a reference for planning future developmental projects in rural areas, which of course, should be done in accordance with the interests and involvement of the local community.