Phenomenological study about enhancing university student's psychosocial wellbeing through YouTube videos: Autonomous Sensory Meridian Response (ASMR) in Finland
Ko Wai, Chan (2020)
---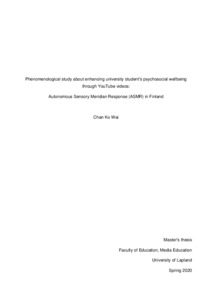 Lapin yliopisto
2020
Julkaisun pysyvä osoite on
https://urn.fi/URN:NBN:fi-fe2020061443133
Tiivistelmä
The present qualitative study aimed to explore how the attitudes, experiences, and feelings of Autonomous Sensory Meridian Response (ASMR) videos could be used to enhance psychosocial wellbeing similar to mindfulness-based treatment programs. ASMR is an atypical and multisensory phenomenon in which a tingling sensation is often elicited following specific audio-visual stimulations. Although ASMR experiences have been announced to enhance wellbeing and phenomenologically superimposed with mindfulness, there is a lack of research exploring how ASMR experiences relate to wellbeing. In this study, the theoretical underpinnings of the Differential Susceptibility to Media Effects Model (DSMM) by Patti M. Valkenburg and Jochen Peter (2013) are merged with Positive psychology's wellbeing theory (PERMA) by Seligman (2011) for the first time with the objective to explore and link the distinguishing characteristics of ASMR video with wellbeing outcomes.
The study entailed two in-depth semi-structured interviews, which were conducted with three university students (one female and two males) in Finland. Interpretative phenomenological analysis with coding schemes was employed and guided by DSMM and Seligman's five domains of well-being. Three main themes and fourteen subthemes emerged from the analyses of the interview transcripts corresponding to the research question. The main themes include ASMR intentional use, ASMR media contents, and ASMR multisensory integration. The subthemes encompass prior ASMR-like experiences, social pressure from family members and curiosity, different types of sound, voices, and movement; nostalgic thoughts, pro-change bias, and positive responses. Exploration of interviewees' narratives further brought to light issues concerning ASMR's emotional effects on wellbeing. Analyses reveal different subthemes clustered into five main themes: Positive Emotion, Engagement, Relationships (Connectedness), Meaning and Making a Connection, and Accomplishment.
The findings showed how ASMR videos enhance wellbeing through mindfulness-like experiences. These research findings are significant due to the ASMR videos' potential to increase wellbeing and happiness. Furthermore, their influence can extend to elevating the ability to concentrate on tasks at hand, improving the quality of sleep by stopping rumination, increasing self-confidence, and motivating altruistic behavior. The beneficial potential of ASMR videos to promote psychosocial wellbeing is remarkable.