Arctic purity – Phenomenological study on Chinese millennial tourists' sensory experiences of cleanliness and dirt
Takala, Tiina (2020)
---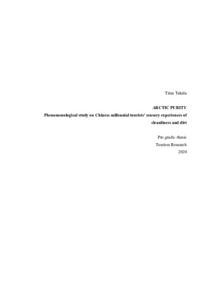 Lapin yliopisto
2020
Julkaisun pysyvä osoite on
https://urn.fi/URN:NBN:fi-fe2020062645980
Tiivistelmä
The number of Chinese tourists visiting Lapland has tripled over the past few years and the Chinese millennials are seen as the key driver of Chinese outbound tourism in the future. Due to the growing urbanisation and industrialisation, clean environment is believed to be a big attraction among Chinese tourists.

Earlier studies on cleanliness of the environment in tourism have shown that dirtiness of the environment negatively affects destination competitiveness and willingness to return. At present, little research attention has been given to investigate how purity and dirt are perceived and sensed by tourists.

The general aim of this study is to increase insight into how purity and dirt are sensed. The research subject is sensory experiences of environmental cleanliness and dirtiness of Lapland of Chinese millennial tourists. This study draws on the theoretical discussions of purity and dirt, using mainly the work of Olli Lagerspetz and Mary Douglas. The main research question of this study is: How are the experiences of cleanliness and dirtiness of environment composed through sensory experiences of Chinese millennial tourists? The sub-questions are: How is cleanliness of the environment sensed? How Arctic region embodies purity for Chinese millennials? What is the role of different senses in the experience of the air quality?

The empirical material consists of nine semi-structured interviews, collected from 16 Chinese millennial tourists in Rovaniemi, Finnish Lapland. The interviews were conducted in English and collected outdoors in winter 2017 by using the method of sensewalking, introduced in the 1960's by Southworth. The empirical material was analysed using the process of hermeneutic circle. The study was conducted following the ethical principles and guidelines of the Finnish Advisory Board on Research Integrity.

The results of this study suggest that dirt is viewed to be related to urban environments and caused mainly by humans and crowding. Though the presence of wild animals was seen as a sign of cleanliness, except for their secretions. Cleanliness of the environment was seen to manifest itself through silence, smells of nature and difficulty to access. Also white snow was considered clean, while all the other colours of snow were perceived as dirty. Both polar regions of the world were seen as clean places. The importance of clean environment as a reason for travelling was believed to increase in the future. The results of this study can be utilized in further research of the topic and be applied to tourism marketing and development of tourism destinations.