Pursuing Otherness: Autoethnographic study on dark proximity tourism in Viitasaari
Linnakoski, Noora (2020)
---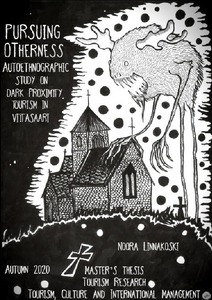 Lapin yliopisto
2020
Julkaisun pysyvä osoite on
https://urn.fi/URN:NBN:fi-fe2020091669939
Tiivistelmä
Throughout history, places related to death have lured visitors. Dark tourism is not a new phenomenon and academic interest towards death-related places is not novel either. Dark tourism, however, provides a vast area of research and opportunities for continuous discoveries. Utilizing local death-related Finnish folk belief tradition in dark tourism practices is a novel approach this study adopts.

This autoethnographic study examines endeavor to practice dark proximity tourism through death-related myths and legends on the Old Church Island Cemetery in Viitasaari. The study aims to provide nuanced and intimate insights into pursuing Otherness in one's proximate environment. Furthermore, the study aims to contribute to understanding small-scale non-commercialized lived dark proximity tourism experiences. The empirical data consists of fieldnotes reflectively describing and discussing the process of pursuing Otherness, as well as, the two lived dark proximity tourism experiences that took place during the research process. In the analysis part of the study, autoethnographic accounts written based on the field notes aim to describe the dark proximity tourism phenomenon in a fundamental and revealing manner. Alongside the autoethnographic accounts presented, particularly emotions, senses, feelings, embodiment, thoughts related to dark proximity tourism as well as expressions referring to one's meaning-making process are analyzed in the light of hermeneutic phenomenology.

The findings indicate that dark proximity tourism practices can be multifaceted and encompass various relations with death as well as offer tremendous emotional experiences. Through adopting a different mindset and attributing difference ideologically a cemetery in one's proximate surroundings may turn into a place where Otherness can be experienced, and tourism practices implemented. Attributing differences ideologically may be a far-reaching process that establishes an emotional connection towards the place as well as shapes the place identity. Around us, dozens of unheard stories exist, and discovering them, may help us to see our familiar environment in a new light and as alluring for implementing tourism practices.