Socially Sustainable Artificial Intelligence - An Approach from the Point of View of Article 53 of the European Patent Convention
Eskola, Kyösti (2020)
---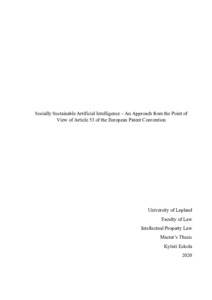 2020
Julkaisun pysyvä osoite on
https://urn.fi/URN:NBN:fi-fe20201223102844
Tiivistelmä
Artificial intelligence (AI) has in the recent years become a widely discussed topic across various sectors. However, AI is also argued to introduce certain risks in societies. In the forefront have been discussions on the ethical and social issues that AI might bring forth in its various operations. In this thesis, those ethical issues are connected to the concept of social sustainability, which refers to taking into consideration social aspects of sustainable development. Social sustainability is strongly ethical by nature.
This thesis will attempt to find an answer for the question: Can and how can social sustainability be implemented to the patent system by focusing on excluding inventions that are immoral or contrary to ordre public? This question is practical because patent systems and offices are in the forefront of new technologies and because sometimes controversies regarding new technologies only surface once the inventions reach patent offices. The question is approached from the perspective of the European patent system and more specifically from the perspective of Article 53 of the European Patent Convention which introduces general ordre public and morality exceptions to patentability.
First, it is argued that patents are instruments of public policy and when new, ethically questionable technologies surface, a demand for regulation is expected. This speaks for enforcement of common European principles, such as those of social sustainability, by means of patent law. Previous cases in which the European Patent Office and the Court of Justice have been forced to assess the ordre public and morality implications are then examined in order to find applicable approaches that can be applied to AI inventions. Also, the different approaches for figuring out the public standard of morality as well as the methods of assessment of morality are discussed. Finally, a suitable method for assessing the morality implication on a case-by-case level with respect to AI inventions is attempted to offer, as well as discussing the benefits of adding social sustainability aspects to the examination of AI inventions.