Affects on crowded trails: A narrative study on the affective atmosphere of Finnish national parks during perceived crowding
Hirvonen, Henna (2021)
---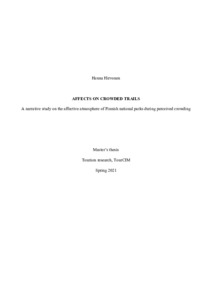 2021
Julkaisun pysyvä osoite on
https://urn.fi/URN:NBN:fi-fe2021061838703
Tiivistelmä
On the footsteps of continuously growing popularity of nature-based tourism, national parks have become important tourist attractions, both internationally and in Finland. In addition, the global coronavirus Covid-19 pandemic has increased volumes of visitors in national parks even further. As a result, perceived crowding occurs. Already, crowding in natural environments has gained a considerable amount of research interest. However, affect theories and ideas involved in them, such as affective atmospheres, could be more utilised in studying crowded nature areas, such as national parks. In general, there is a growing body of academic literature about affective atmospheres, which this work aims to contribute by examining an affective atmosphere in the context of a crowded national park.

This narrative study is interested in how visitors of Finnish national parks experience crowding: what kind of affective and emotional responses are involved in these experiences? How are these responses contributing to the creation of an affective atmosphere? Therefore, the main research question of this work is: How is the affective atmosphere of a crowded national park? In addition to these aims, this Master's thesis examines what kind of interruptions in the flows of visitors' experience occur during the visit, and how they can potentially alter the affective atmosphere and the national park experiences. Then, these interruptions are studied in terms of how they can potentially shape the experience of space. The data consists of 11 written narratives, involving 10 out of 40 of the Finnish national parks.

The results indicate that a rather broad variety of affects, both positive and negative, are present during visits in crowded national park settings. Affects were identified to occur in encounters between narrators and other hikers, between narrators and nonhuman actors, as well as in situations involving congested national park facilities. Interruptions were also emerging from these situations. Interruptions' influence on how visitors experience the space was closely related to memories and expectations, having the potential to determine future visits.