Service Design for sustainability: Finding best practices for culturally sustainable tourism in small and medium enterprises
Tauch, Emmanuel, Marie, Michael (2021-06)
---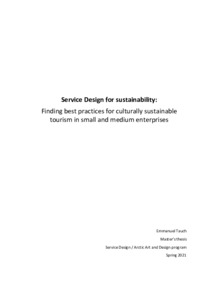 Tauch, Emmanuel, Marie, Michael
Lapin yliopisto
06 / 2021
Julkaisun pysyvä osoite on
https://urn.fi/URN:NBN:fi-fe2021062840195
Tiivistelmä
The global tourism industry is steadily growing and increasingly affecting not only the physical, but also the cultural environments of the tourism destinations. The amalgamation of cultures happening as a result of globalisation is particularly threatening for small or remote cultures, that are often at the centre of the local tourism. Most tourism businesses are SMEs owned or managed by entrepreneurs with little formal management education. Finally, the opinions of tourism researchers and practitioners diverge on many key issues, which hinders fruitful cooperation, and the current research on sustainable tourism is mainly focused on ecological, rather than cultural sustainability. These factors converge to make cultural tourism a delicate business, the challenges of which SME entrepreneurs are rarely able to meet.
It was the aim of this thesis to help fill the gap in the research on culturally sustainable tourism, and to contribute to a better cooperation between tourism professionals and researchers, by investigating the stated problems and presenting results and recommendations useful to both tourism entrepreneurs and academics.
The research questions (What are best practices in culturally sustainable tourism for SMEs? How can service design be employed by entrepreneurs, to identify/implement and enhance these best practices in their businesses?) were answered using a qualitative survey and laboratory ethnography in the form of collaborative service design workshops, and analysing the results using the theoretical framework of the thematic literature review.
While the research showed that environmental sustainability issues resulting from tourism are seen as more pressing than cultural ones, it also confirmed that types of sustainability such as economic, ecological, or cultural sustainability cannot be observed in isolation from each other. What is more, it was found that measures to promote ecological or economic sustainability can be adapted to support cultural sustainability. The research also yielded five areas of best practice in cultural sustainability for tourism SME owners to adopt in their businesses. Finally, this thesis proved that service design is suited both for identifying sustainable best practices, and for managing a tourism business sustainably.