The Customer Value of the Social Environment of Hostels: Insights by Hostel Entrepreneurs
Wu, Kevin (2021)
---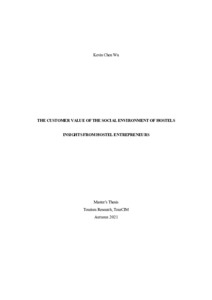 Lapin yliopisto
2021
Julkaisun pysyvä osoite on
https://urn.fi/URN:NBN:fi-fe2021121761721
Tiivistelmä
Hostels are revitalizing and diversifying from its traditional hostel identity to niche hostels where the present research proclaims that the social environment of hostels is becoming more valuable to both the hostel entrepreneurs and its growing heterogeneous consumers of the mid-Digital Age. The unique value proposition of hostels when compared with all other traditional touristic accommodations is its social engaging environment where hostellers innately expect to encounter and interact with other hostellers. The ongoing Covid-19 pandemic in its second year-running has in effect forced the lifestyle hostel entrepreneurs to re-think, re-evaluate, and re-design their socialscape and hostel business concept so that the business may continue to survive.

The purpose of this study was to utilize evolving marketing concepts of value co-creation and socialscape to see if the four lifestyle hostel entrepreneurs found from this study apperceive the customer value of the hostel's social environment as a touchpoint where value can be added or created with its consumers. The qualitative method of semi-structured interviewing was collected during the summer and autumn period of year 2021. The content analysis method was used where the researcher transcribed the video interviews into written texts. Both deductive and inductive coding approaches were used to focus the study upon the social environmental aspects of a hostel as a customer value for both the hostel entrepreneurs and their consumers.

Findings indicate that the lifestyle hostel entrepreneurs apperceived the customer value concept of the hostel's social environment through self-identifying themselves as the niche hostel consumers they seek to attract over to their hostel place. The social engaging environment of hostels were identified as value co-creative places where interactions occur. This social engaging environment of hostels refers to the hostel enclave as a 'metaspace', or as a unique suspended experiential place, for specific communities like the backpackers to meet locals and fellow travelers alike. Information communicated about a hostel's social behavioral culture provides hints about the hostel's enclave as a place of gathering for specific niche communities. Lastly, the study indicates that the phenomenon of the Covid-19 pandemic has impacted tremendously the socialscape environment where the customer value for social interaction and to be connected has increased in value.