From last chance tourism to gone destinations? Future narratives of Svalbard as a post-Arctic tourism destination
Müller, Sarah (2022)
---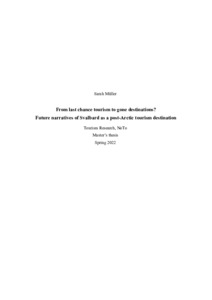 Lapin yliopisto
2022
All rights reserved
Julkaisun pysyvä osoite on
https://urn.fi/URN:NBN:fi-fe2022022720969
Tiivistelmä
Will the Arctic as we know it disappear? Unarguably, this question has the potential to send one down a rabbit hole of future scenarios. Especially as people commonly tend to have a pretty clear expectation of Arctic tourism which seems to be predominantly built on cryospheric components. But how will these narratives hold up in the face of climate change and might it be exactly the fear of a melting Arctic that is to blame for the increase in tourism at the destination? Taking these thoughts as a point of departure, this thesis addresses a gap in research which has not received a lot of attention thus far; namely last chance tourism narratives in the context of Arctic tourism futures. By applying affect theory, I examine what kind of tourism futures are attested to Svalbard as an Arctic destination and how these futures are constructed.

The study uses a broad narrative methodology which is based on a two-step approach. First, academic literature as well as media material on last chance tourism are analyzed and four main narratives (narrative of hope, narrative of remembrance, narrative of demise, and narrative of reverse pioneering) are identified. From these four narratives it becomes evident that the future of so-called last chance tourism destinations is complex. Within the second step, the findings are then applied to Svalbard as a destination which has been commonly referred to as a last chance tourism destination in pre-existing research and media coverage. The aim is to gain a clearer understanding of the ideas about the future of an Arctic last chance tourism destination. In doing so, unstructured interviews (n=7) with people involved in tourism on Svalbard are conducted.

Following the methodological approach of doing unstructured interviews, the presentation of the findings uses an experimental approach. The individual interviews are merged into one imagined, collective meeting where experts are invited to discuss about the future of tourism at their destination. It is especially in this part of the study that emotions can be seen as the communication of affect, adding a tangible notion to the component of feelings within the narratives of the interviewed experts. Overall, the individual narratives discuss developments regarding the global competition and capitalization of the Arctic, disruptions in tourist-place encounters, and atmospheric alterations of place. The findings indicate that the factor of control in the form of newly implemented regulations and restrictions will shape Svalbard's tourism futures, while opening up the industry to many uncertainties regarding exact developments. Furthermore, the narratives on Svalbard's tourism futures also partly resemble last chance tourism narrativities and almost always have to be viewed in the wider context of discussions around the future of Arctic tourism in general.