Taking a guilt trip? How guilt and shame shape the tourism consumption experiences of female travellers – a phenomenological approach
Karumaa, Emilia (2022)
---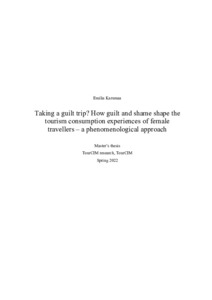 Lapin yliopisto
2022
Julkaisun pysyvä osoite on
https://urn.fi/URN:NBN:fi-fe2022050231775
Tiivistelmä
In recent years, the global public and academicdiscussionsonthe concerns ofclimate crisis, global pandemic and human rights issues to name a fewhave saturated also the topic of leisurely travelandbecomesymptomaticin controlling tourism consumption.In addition to the concreteand provenly deterioratingimpact of travel towardstheenvironment, thenegative social implications oftravellinghave not gone unnoticed.Whereas travellingused to be considereda leisurely pastime, it would now seem that,at least for some consumers, it has become a moral burden.Correspondingly, the emotional responses and thus the experiencesrelated to travel are bound to change.In travel contextand tied to the sense of morale,thepredominately negativelyperceivedself-conscious emotions of guilt and shamemay be alien but an importanttopic of discussion.

By applying the methodology of hermeneutic phenomenologyandthe interpretative phenomenological approach, this study aims to examinehowtravel-relatedguilt and shame shape the tourism consumption experiences of female travellers.In using the hermeneutic phenomenology as the theoretical perspective to guide the interpretation and analysis of the research data, the shared experiences can be seen togain the implied contextual features of an experience. As a result,a more thorough understanding of the phenomenoncan be achieved.The study utilises the method of semi-structured interviewsin gaining insightabout thetravel-related experiencesof guilt and shameshared by Finnish female travellers.

The study findings indicatethat in tourism context, theexperiences of the self-conscious emotions of guilt and shameare extremely multi-levelled and experientially rich.The findings also illustrate an evidentcontradiction between the values,the triggers of guilt and shame as well asthe consequent behaviourshared by the interviewees. Additionally, the confessionalshighlightthat a range of different resistance techniques is used to justify the lack of change in behaviour. Inthe context of this study,guilt and shame can be found to beweak forces of changein the consumption behaviourof Finnishfemale travellersin tourism.However, while lacking the rigourto alterthe order of consumption altogether,these self-consciousemotions prove tohave the constructive capability to facilitate a change in thinkingand raisingawareness.