Tourists' Framing of Positive Animal Welfare: The Example of Dog Sledding in Finnish Lapland
Beuttner, Elena (2022-05)
---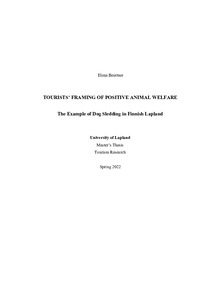 05 / 2022
All rights reserved
Julkaisun pysyvä osoite on
https://urn.fi/URN:NBN:fi-fe2022052338236
Tiivistelmä
On a global scale, the use of animals in tourism has gotten more and more popular. In Finnish Lapland this trend can also be observed. In 2017 dog sledding replaced snowmobiling as the most popular tourist activity and husky dogs have been identified as the biggest group of animals in Lapland's animal-based tourism industry. With the popularity growth of animal-based tourism, the attention towards ethical treatment of animals in the tourism industry has also increased. In the academic community, the concept of animal welfare is a well-researched one, however, the focus has been largely on eliminating negative experiences for animals. Recently a new concept has emerged, which is that of positive animal welfare. The concept of positive animal welfare has mostly been explored among livestock, farm, or zoo animals, but not yet in the context of animal-based tourism.

The objective of this study is to explore what constitutes positive animal welfare in the minds of tourists who have participated in animal-based tourism activities, using the example of dog sledding in Finnish Lapland. In other words, the aim is to find out if tourists are familiar with the term positive animal welfare, what they think it means, what they think it entails, what kind of associations they have with it, and how they think it can be achieved. The study was of qualitative nature with free association narrative interviews as method for data collection. The contact to participants was established with the help of the commissioner of this thesis, Bearhill Husky. Ten interviews were conducted with a total of eleven participants. Data analysis was carried out by use of thematic analysis.

The findings of this study show that tourists were not familiar with the term positive animal welfare and had rather differing ideas of what it means. The most common association was that of physical health, followed by mental health. The expertise of the animals' caretakers was also seen as crucial, as the participants identified them as the main influencers of the animals' wellbeing. Only one participant brought up the perspective of the animals' needs. As such it appeared that tourists still approach positive animal welfare mainly from a human-centred point of view. This thesis contributes to the general body of knowledge surrounding positive animal welfare and brought a new perspective to this concept by examining it in a tourism context. Various practical implications were derived, for example, the development of in-depth kennel tours as a new animal-based tourism product.