Phenomenological study of human-nature relationships among freeriders in Pyhätunturi
Heikkilä, Tiina (2022-06)
---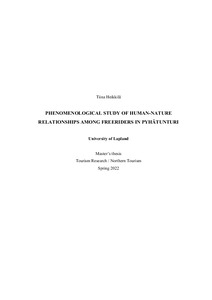 Lapin yliopisto
06 / 2022
Julkaisun pysyvä osoite on
https://urn.fi/URN:NBN:fi-fe2022061647125
Tiivistelmä
Covid-19 challenges tourism industry to consider the unsustainability of the pre-crisis tourism rather than returning back to 'business as usual' in tourism sector. The increase in social and environmental concerns will encourage post-crisis tourists to choose destinations closer to where they live; Covid-19 has been boosting proximity tourism. Proximity tourism highlights local destinations, travelling short distances and using lower-carbon modes of transport. Pyhätunturi is considered to be a proximity tourism destination for Finnish freeriders, and its importance has raised due to Covid-19 as freeriders have not been able to travel abroad. Also, freeriding has been a growing phenomenon in recent years. Nevertheless, there is only small number of studies regarding freeriding. Understanding this phenomenon would give useful insight why people engage with this specific outdoor recreation, which includes lot of physical attributes and high possibility for risks.

The purpose of this master's thesis is to gain deeper understanding of freeriders human- nature relationships based on their freeriding experience in Pyhätunturi. The basic idea of this study is that humans' relationship with nature is manifested in one's experiences, therefore human-nature relationships of freeriders are examined through the experience of acting in nature. This study is qualitative. Phenomenological approach was adopted, and this study is positioned in the phenomenological-hermeneutic family. The research data consisted of six semi-structured interviews conducted with freeriders who had been freeriding in Pyhätunturi. The data was analysed using interpretative phenomenological analysis.

The findings of the study indicate that human-nature relationships among freeriders are diverse, and the meaning of place was emphasized. The findings of this thesis also established that freeriding has gone through an "evolution" from risk-taking and danger to enjoying, well-being, learning and embodied experience. It could be argued that this evolution has a positive effect for the future of freeriding, as if snow cover will be less abundant making riding more difficult, freeriding could still be practiced in terms of outdoor recreation. Freeriding enables close contact with nature, and nature in turn provides a place to relax and have a physical activity. This study indicates that nature affects freeriders, hence nature has agency. Further research should pay attention to the role of nature's agency as part of freeriding.