Collective Intelligence - Consenting to Conscient Consultation
Firmo Emediato, Rodrigo (2022-12-21)
---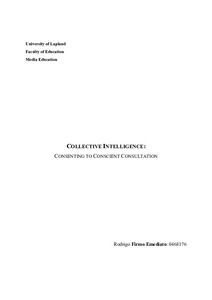 Lapin yliopisto
21.12.2022
Julkaisun pysyvä osoite on
https://urn.fi/URN:NBN:fi-fe2022122273215
Tiivistelmä
Google, Facebook, Amazon, Wikipedia, Spotify, Netflix, Apple, Samsung, Microsoft, Disney, Uber, Tinder, etc.: ours is the generation that has got a World Wide Web to their fingertips; in addition, we often feel like the net has analogously become a kind of add-on to our minds, i.e., an extension to our intellectual capacity. Browsing on the internet, emailing, skyping, googling, chatting, posting texts, photos or videos on social media, whilst interacting with contents that can be as informative as the news broadcast and as entertaining as playing videogames or streaming music, films, and series via applications (apps) downloaded on smart devices have thus been gradually becoming some of our generation's daily activities of choice. Along these lines, whilst meaning to conceptualise a method for studying an alternative to our present-day prescriptive educational practices, I elaborate a constructivist approach towards the transformative paradigm of a transmedia-interactive produsage. That is, in this MA Thesis I propose the produsage of a cyclic program in which educators could cooperatively consent on a conscient consultation of their prodused contents in a knowledge democratisation exercise. These experts could thereby participate on the mediation, moderation, and mediatisation of a (n)ethnographic e-volution on the road to a sociocultural empowerment and a civic emancipation movement, striving for critical reforms that would pursue the autonomous automatisation of self-regulatory socio-cultures.
Comparatively, from this study's standpoint, the arguably participative factor of the existing Participatory Web resembles the speculative political empowerment triggered by the act of voting for a political candidate: because, in both cases, the options presented to the public regularly are pre-established by the few de facto empowered decision-makers, like e.g., the heads of political parties and coalitions on one hand, or content writers and producers on another. Alternatively, in this thesis I will look into concealed alternatives for (or, preferably, against) what has gradually developed into the modus operandi of media and technology businesses: the monetisation of information by the commodification of produsers. More specifically, I hope to analyse if, inasmuch as ICTs have been democratising knowledge, they also have been contributing to the prospective quest for more maximalist, and collective, forms of participation during our (Western societies') history.
Notwithstanding, this thesis is a theoretical study, and therefore, here I will not present an empirical example of such educative interaction: which I deliberately call eduraction. Appropriately, because the academia continuously gains new insights with the intersection and compilation of our human cognition, – viz., with our collective intelligence (CI) – I understand that constructivist edutainment and pedagogical participation practices can be interchangeably employed towards a civic engagement – as presented in this thesis' results. Accordingly, the discussion that I intend to incite with this research theoretically refers to the possible implementation of artefacts for mediatising our civic participation, towards the radical sense of democracy via a critical constructivist education. In short, here, I aim to explain how interactive media create collective intelligence, by analysing what decentralisation of power is engendered by produsage and why edutaining praxis ought to spur a civic participation. As a result, in this study I will hypothesise the emergence of a 21st century conscientisation praxis.
All in all, educators are enthusiasts, connoisseurs, collecting, curating, collaborating, criticising, converging, and creating contents that synthesise and might materialise meaningful methods and manners for systematically reasoning, negotiating, or promoting a collective, constructivist, and perchance transformative and participative (democratic) utopia. Ultimately, instructors are a medium of knowledge; and be that as it may, nobody knows all, but the sum of all known by each of us is all the knowledge of our multi-millenary humanity. Thence, we ought to find ways of collaboratively connecting the dots with our bits and pieces of information.
Until very recently, many considered the efforts for conceptualising networks, in which meaningful thematics could be broadly discussed (by people from different ethnicities all over the world), just as naïve as utopic. Indeed, it is still debatable whether interactive media, in the current state of Web 2.0, do provide such effectual possibilities to its users. On the other hand, it is with the purpose of adding to this debate that I endeavour to investigate quiescent means for collaboratively working on a critical upgrade to the denotation of democracy. As a matter of fact, technology, etymologically, is the study of crafts; and this MA Thesis endeavours to deal with the sociocultural factors and artefacts that we create to assist our kind's evolving signification of civilisation. With this in mind, for concluding this thesis with a theorisation on yet untapped possibilities within produsage, I look into some of the latest media developments which could possibly contribute to meaningful improvements on our practices of participative citizenship. Then, in such hyperlinked hypothesis, educative matters of various thematic universes could be cooperatively taught by doyens, through networked lectures, with new hypertexts being added to the storylines of their lessons inasmuch as they were being produced and curated, as a critique to divergent interpretations on those phenomena previously presented via a unique interactive-video production. In that event, interactive media could create a Collective Intelligence, by means of an edutaining praxis which could spur a civic participation for democratising knowledge via produsage – in turn, (re-)creating and cyclically transforming our collective intelligence. Like this, such media type would theoretically serve as a wikinomical platform.