Resisting expectations : Discourse analysis of Finnish travel literature about solo female travelers
Ruoho, Sanna (2023)
---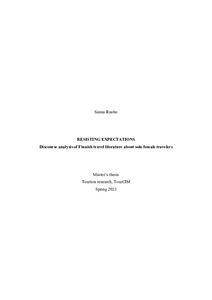 Lapin yliopisto
2023
Julkaisun pysyvä osoite on
https://urn.fi/URN:NBN:fi-fe2023022328408
Tiivistelmä
Over the past decade, interest in solo travel has grown considerably. Still, the existing literature is limited, and the experiences of Finnish solo travelers in particular have received little attention. This study examines how solo female travel is represented in travel books written by Finnish women. In this study, a solo traveler is defined as a person who leaves home alone and travels primarily by herself.

The study is based on the social constructionism paradigm and is qualitative in nature. The theoretical framework builds on discourse theory and prior research on solo female travel, women's travel writing, and travel guidebooks written for women. The empirical data consists of five travel books that have been published in the 2010s. All books are personal narratives written by Finnish women about their solo travels abroad for leisure. Discourse analysis was used to examine how solo female travel is represented in the data.

Four solo female travel discourses were identified: resistance, safety, gender, and transformation. Resistance was found on two levels: the solo trip itself was a major act of resistance, and women also resisted others' expectations during the trip. In accordance with previous studies, consideration of safety was always in the background. Women assessed frequently their safety situation and adjusted their behaviour accordingly, which affected their use of space. However, what was perceived as dangerous was different for each traveler.

Solo female travelers also encountered gender-related issues like being asked to dress more appropriately and having to lie that they are married. They reported being prone to the male gaze and having uncomfortable encounters with men, though these incidents were described mainly in a humorous tone. The findings suggest that solo traveling experience is slightly different depending on the woman's age, but further research would be needed.

Solo female travelers tended to consider themselves as travelers or "explorers" instead of tourists. Especially the younger women borrowed heavily from the Romantic tradition of travel writing, concentrating on the subjective and searching for an answer to an identity crisis. For them, solo travel was a transformational experience that changed them as a person. It is reflected that the narrative structure of these travel books resembles traditional adventure novels.