Sustainability as new luxury? : discourses shaping luxury tourism as a social phenomenon – the perspective of the DMOs in Lapland
Lehto, Miira (2023)
---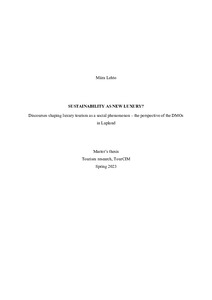 Lapin yliopisto
2023
Julkaisun pysyvä osoite on
https://urn.fi/URN:NBN:fi-fe2023032833657
Tiivistelmä
The concept of luxury constantly evolves and takes new forms. Finland is not deemed to represent a traditional luxury tourism destination, but rather to possess advantages adhering to the new form of luxury, foregrounding intangible elements over the focus on material. Luxury is occasionally considered to conflict with sustainability, but on the other hand, they are considered as concepts reinforcing each other. Sustainable values gain ground within the luxury context, especially along with the expansion of the notion of luxury. Furthermore, accessibility represents a notable factor in terms of tourism development, which may pose diverse implications to luxury tourism and sustainability.

The study aims to contribute to increasing the understanding of luxury as a social phenomenon and of the circumstances regarding sustainable and accessible luxury tourism development in Lapland. Two diverse sets of empirical data were used. Primary data was collected through semi-structured interviews from six representatives of destination management organizations in Lapland, representing pivotal tourism actors in their own areas. Secondary data consisted of a guidebook produced by the national tourist board Visit Finland, "What is Finnish luxury tourism?" (originally in Finnish). By combining the two means of data, the study aspires to compose a more comprehensive outlook of the phenomenon in the Finnish context. Social constructionism as the paradigmatic approach and discourse analysis as the analysis method enable to study the social and discursive formation of luxury tourism from the perspective of the DMOs.

The findings of the study suggest that Lapland is socially and discursively constructed by the local DMOs as an applicable luxury tourism destination leaning on the natural and cultural strengths as the foundation for luxury to stem from. Sustainability was opined to be an intrinsic component in the new form of luxury tourism in Lapland, even though the problematic nature of tourism in general was recognized. Accessibility was regarded crucial in terms of ease and inclusivity, thus concurrently promoting social sustainability by contesting the inequality luxury may classically unveil. Instead of the traditional aspects of price and exclusivity, the diverse levels of luxury may uplift novel kind of values instead. Ultimately, the Finnish lifestyle, composed by the mentalities, values, and the societal, cultural, and environmental aspects are suggested to create the premises for the Finnish notion of luxury. The views of Lapland DMOs and the national level guidebook were largely compatible, reflecting parallel meanings attached to luxury in the Finnish context. The study was conducted in cooperation with national FIT ME! project which pursues to develop the accessibility of rural destinations.