Conversations on design thinking : understanding, value and adoption in businesses today
Mölsä, Tiina (2023-05-24)
---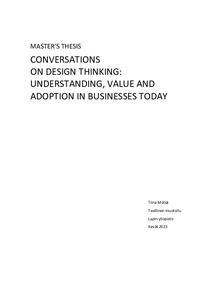 Lapin yliopisto
24.05.2023
Julkaisun pysyvä osoite on
https://urn.fi/URN:NBN:fi-fe2023052447332
Tiivistelmä
Today design is part of coffee table conversations as much as boardroom discussions. In
everyday language design as a concept is understood differently by people with different
backgrounds. The different interpretations pose a challenge, and it is commonly stated that
design thinking lacks a clear definition which threatens it to end up as a management buzz
word that will eventually fade away. In this master's thesis we will look into the ways design
as a practice and its value is communicated and how is it understood outside the design
community.

The theoretical review looks into defining the design concepts and methodology, and builds
understanding what the academic community says about design concepts. Thesis also looks
into research on how design is seen and used in organizations. The research for this
master's thesis was done by interviewing four persons working in roles that are not
traditional designer roles, to gain insights how people outside the design community
perceive design thinking.

In this master's thesis we found that some of the basic elements of design thinking are
understood by people outside of design community. Focus is heavily on user centricity.
People entirely outside of design community seems to associate design with final form
giving and visual aspects. Key to communicating value is understanding where and how
value is manifesting. Best ways of communicating design value are demonstrating the
design process itself and finding real tangible business performance measures to showcase
design value. The intent to integrate design in organizations is there, but there are still
signals that the integration is not complete. The need for interdisciplinary understanding
came through strongly. Both in creating best possible design outcomes but also in being
able to communicate design and interact with people with various backgrounds and being
able to demonstrate design capabilities.