To grow or to degrow? : discourse analysis on degrowth and socio-ecological justice in the futures of Arctic tourism
Tikkanen, Juulia (2023)
---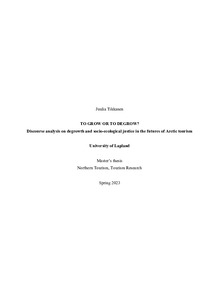 2023
Julkaisun pysyvä osoite on
https://urn.fi/URN:NBN:fi-fe2023061656143
Tiivistelmä
This study has explored the discourses related to degrowth and socio-ecological justice in the futures of Arctic tourism. Degrowth offers an alternative perspective for tourism development as it criticises growth ambition. Previous literature has addressed that degrowth has been mostly explored in overtourism literature but has gained little attention in the context of Arctic tourism. Degrowth should be practised in a way that is just and it increases the well-being of the local communities. Socio-ecological justice, which was the approach behind degrowth in this study, aims to address both human and nonhuman worlds' relationality as a matter of justice. Nonhumans play an important part in tourism but often become marginalised due to anthropocentric actions in tourism development.

The research data of this study consisted of ten interviews that were collected through the ArcticHubs project. As an analysis method, I utilized discourse analysis with a future-oriented approach. The underlying paradigm of this study was social constructionism. The main research question of this study was as follows: How are the discourses related to degrowth and socio-ecological justice constructed in the futures of Arctic tourism? The sub-questions were: What kinds of linguistic means these discourses are constructed through? and Who has the power to construct these discourses?

One of the main results was that the tourism growth discourse was hegemonic which did not give space for the degrowth discourse. Tourism growth seemed to be taken for granted although previous literature had given a reason for rethinking tourism practices in the post-Covid-19 pandemic. The degrowth discourse was constructed through ways of speaking where tourism is only targeted for fewer and better-paying tourists or where tourism may need to be abandoned as travelling sustainably is not enough anymore. Luxury tourism, as addressed in the data, would be beneficial for the environment but at the same time, it increases injustices between tourists and locals. The socio-ecological discourse constructed a social reality where different stakeholders see nature in a different light: for some, nature can be utilised as a business environment and for others, it needs to be protected. The power relations of language use became apparent as they determine who can talk about tourism growth and how. In the futures, tourism degrowth needs more exploring as there are yet no strategies on how to degrow which is unjust for local communities who may want to practise it. Besides degrowth, also justice needs more exploration in tourism research, especially from the nonhuman point of view.