Matka kohti vastuullisuutta: – Kokonaisvaltainen vastuullisuus vaatetusalan yrityksessä, Case: Voglia
Ruokamo, Annariina (2016)
---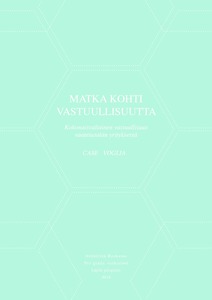 Lapin yliopisto
2016
openAccess
Tiivistelmä
Tutkimus on laadullinen tapaustutkimus, joka käsittelee vastuullisuuden toteutumista suomalaisessa vaatetusalan yrityksessä. Tapaustutkimuksessani tutkin suomalaista naistenvaateyritystä, Vogliaa. Tutkimukseni tavoitteena on määritellä, mitä vaatetusalan vastuullisuus tarkoittaa ja miten sen tulisi näkyä yritysten toiminnassa niin yrityksen arvojen kuin vaatetussuunnittelun ja tuotannonkin näkökulmasta.
Tutkimuksessani pyrin vastaamaan kolmeen kysymykseen: mitkä asiat vaikuttavat vastuullisuuteen vaatetusalan yrityksessä?, mikä on vaatetussuunnittelun merkitys yrityksen vastuullisuudelle? ja miten vaatetusalan yritys voi vaikuttaa tuotantonsa vastuullisuuteen?. Tutkimuskysymysten ratkaisun pohjalta tavoitteenani on muodostaa kokonaisvaltaisen vastuullisuuden malli, jota sekä tapausyritykseni Voglia että muut suomalaiset vaatetusalan yritykset voivat hyödyntää matkallaan kohti vastuullista toimintaa. Tutkimusaineiston analyysimenetelmänä käytän aineistolähtöistä sisällönanalyysiä. Analysoitava aineisto koostuu tapaustutkimuksen kolmen teemahaastattelun lisäksi yhdestä asiantuntijahaastattelusta.
Tutkimuksen tulokset osoittavat, että yrityksen vastuullisuus on kokonaisvaltaista silloin, kun vastuullisuuden osa-alueet ovat tasapainoisessa vuorovaikutussuhteessa keskenään. Yritykset ovat avoimia vastuulliselle toiminnalle, mutta kaipaavat apua vastuullisuutensa vahvistamisessa ja ohjaamisessa, sillä nykyisellään yritysten resurssit eivät riitä kokonaisvaltaisen vastuullisuuden toteuttamiseen.
This research is a qualitative case study about sustainability in an apparel company. The case of this research is a Finnish company Voglia. The aim of the study is to defend the meaning of sustainability in the Fashion and Clothing industry and how it should be implemented to company's values and to its design or production practices. My aspiration is to find answers to following questions: what are the issues effecting on the sustainability of an apparel company?, what is the role of fashion design for the sustainability in a company? and what kind of effect the company has on the sustainability of its production practises? By answering to these questions I aim to create a model of sustainability for Voglia and other apparel companies willing to start their journey towards sustainability. My research data comes from one elite interview made with a specialist in the field of sustainability and from three theme interviews made with Voglia. As an analysing method I use the data-driven content analysis.
The result of the research point to the conclusion that sustainability should be comprehensive meaning that all the sectors of sustainability should work hand in hand with each other. To call itself a sustainable brand a company should have this kind of holistic view on sustainability. The results imply that the companies are interested in sustainability but they don't have enough resources to implement these practises into their action.
Samankaltainen aineisto
Näytetään aineisto, joilla on samankaltaisia nimekkeitä, tekijöitä tai asiasanoja.
Jónsdóttir, Ásthildur B.

Acta electronica Universitatis Lapponiensis :

222 (

Lapin yliopisto

,

2017

)

This review focuses on the potential of art in education for sustainability in the context of teacher education and art creation. Both action research and art-based research are used to explore the role that art and art ...

García-Rosell, José-Carlos

Acta electronica Universitatis Lapponiensis :

111 (

Lapin yliopistokustannus

,

2013

)

Sustainable marketing research has made great efforts in exploring ways to integrate customers' social and environmental concerns into marketing strategy. Although recent developments in the field of stakeholder marketing ...

Tauch, Emmanuel, Marie, Michael

(

Lapin yliopisto

,

06 / 2021

)

The global tourism industry is steadily growing and increasingly affecting not only the physical, but also the cultural environments of the tourism destinations. The amalgamation of cultures happening as a result of ...