From Co-design to convivial design: insights from engaging users in a participatory clothing design process
Konola, Sanna (2014)
---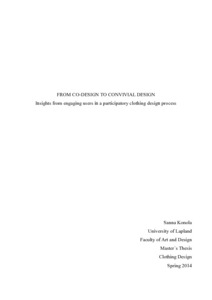 Lapin yliopisto
2014
openAccess
Tiivistelmä
Research examines participatory design from the perspectives of clothing design, design activism
and co-design through engaging users in a participatory clothing design process. Design for
sustainability serves as a background paradigm and an ideological inspiration for this research. A
questions of how to engage users in a clothing design process, is presented. What works, for
whom and in what contexts is examined. Research is conducted as practice-based design research
and a research strategy of applying multiple research methods of practice-based research, action
research and realist evaluation is adopted. Through a literary review of the theoretical
frameworks, a programme theory is constructed, illustrating preliminary understanding and
serving as a model for the participatory design process. This programme theory is then followed
up, tested and evaluated and revised in an abductive and cyclical design and research process.
Multiple data collections methods are used as the research strategy allows and the researcher is
taking many roles as a participant observer, researcher, designer and a facilitator. In addition to
the continuous evaluation of the process, a thematic analysis is conducted to gain further insights.
Data is analysed on three levels, tools and techniques, method and approaches. The multiple
answers to the research questions present themselves during analysis. Main results are
summarised and conclusions drawn through a concept of conviviality. To engage in any
participatory activities, one needs to define the approach, context and the goal, engage the relevant
people and find the suitable method, techniques and tools to reach that goal. Convivial
engagement is informed, generative and scaffolding, disciplined, but creative. There is a
sensitivity to levels of involvement and time invested. Building collective knowledge, practice
and shared understanding is crucial.
Tutkimuksen tarkoituksena on tutkia keinoja osallistaa käyttäjiä vaatesuunnitteluprosessiin.
Keinoja ja työkaluja siihen mikä toimii, kenelle ja missä kontekstissa, tarkastellaan
vaatetussuunnittelun, muotoiluaktivismin ja osallistavan suunnittelun näkökulmista ja
tutkimuksessa toteutetun osallistavan vaatesuunnitteluprosessin kautta. Kestävä suunnittelu
toimii tutkimuksen ideologisena inspiraationa ja taustaviitekehyksenä. Tämä käytäntölähtöinen,
työkaluja ja prosesseja tutkiva muotoilun tutkimus hyödyntää käytäntölähtöisen tutkimuksen,
toimintatutkimuksen ja realistisen evaluaation yhdistävää tutkimusstrategiaa ja hyödyntää
moninaisia aineistonkeruumenetelmiä. Kirjallisuuskatsauksen ja teoreettisten viitekehysten
tarkastelun kautta on muodostettu esiymmärrys osallistamisen keinoista ja mallinnettu
ohjelmateoria osallistavaa muotoiluprosessia varten. Ohjelmateoriaa testataan, arvioidaan ja
uudelleensuunnataan toimintatutkimuksellisten syklien kautta. Teema-analyysin avulla aineistoa
lopuksi tarkastellaan kolmella tasolla: työkalujen ja tekniikoiden tasolla, sekä menetelmien, että
lähestymistapojen tasolla. Kolmen eri lähestymistavan synteesistä oivalluksena noussut
hyväntahtoisen, tai konviviaali suunnittelu käsitteenä kokoaa tutkimuksen tärkeimpiä havaintoja.
Yksittäisten työkalujen ja metodin toimivuus eri konteksteissa todetaan jo analyysin kautta.
Lähestymistapa, konteksti ja päämärät tulee aina määritellä osallistavan prosessin aluksi, jotta
tiedetään ketä osallistetaan, miksi, ja missä vaiheessa prosessia. Tästä johdetaan soveltuvat
menetelmät ja tekniikat. Konviviaali suunnittelu on tietoista, generatiivista ja yhteistä tietoa
rakentavaa. Se on järjestelmällistä, mutta soveltavaa ja luovuutta tukevaa. Hyväntahtoisesti
osallistamisen tasoja ja aikaa huomioivaa. Yhteisten suunnittelun käytäntöjen ja ymmärryksen
rakentaminen on keskeistä.
Samankaltainen aineisto
Näytetään aineisto, joilla on samankaltaisia nimekkeitä, tekijöitä tai asiasanoja.
Zsifkovits, Danielle

Acta electronica Universitatis Lapponiensis : 330

(

Lapin yliopisto

,

2022

)

Service design is a relatively new discipline (when compared to graphic design) that draws on the methods and concepts of various other disciplines, inside and outside of the design realm, to achieve innovative solutions ...

Mieskolainen, Arto

(

Lapin yliopisto

,

16.02.2023

)

Tutkimuksen tarkoituksena oli ymmärtää muotoiluprojektien päätöksenteon kannalta olennaisia ominaisuuksia. Tämä saavutettiin käyttämällä monitieteellistä lähestymistapaa, johon kuului autoetnografinen päiväkirja, ...

Jylkäs, Titta

Acta electronica Universitatis Lapponiensis : 290

(

Lapin yliopisto

,

2020

)

Digitalization and the growing service economy place challenges on organizations for transforming their service offerings to match the high user expectations. Services increasingly exploit digital technologies which play ...