Service Design in the Public Sector: Role, Challenge and Good Practice
Vuontisjärvi, Hanna-Riina (2015)
---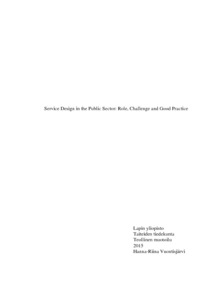 Vuontisjärvi, Hanna-Riina
Lapin yliopisto
2015
openAccess
Julkaisun pysyvä osoite on
https://urn.fi/URN:NBN:fi:ula-201506161184
Tiivistelmä
This master's thesis examines the connection between service design and public sector:
my interest is to observe and study the role of service design in the public service
development globally and nationally and also to identify some specific key factors,
challenges and good practices based on literature and interviews which are the basis of
this thesis.
In this thesis my main aim is to analyze seven service design professional interviews by
highlighting and opening the key factors that have positive or challenging effects to
service development in the public sector and reflect the accuracy of outcomes to
literature and conversations concerning these themes. As a result I am able to identify
seven different phenomenon that have key roles in service development process: (1) big
part of the tools support customer understanding and concept design, (2) based on
interviews service design tools do not support the rooting and launching of new
services, (3) personal initiative and commitment are required that process is able to
proceed inside the organization, (4) organizing, decision-making and maintaining are
the main challenges when taking concepts towards implementation, (5) when launching
new services there are lots of challenges where to find solutions.
As an outcome I present recommendations for public sector service designers where I
reflect identified good practices and challenges based on this thesis.
Tämä pro gradu tarkastelee yhteyttä palvelumuotoilun ja julkisen sektorin välillä: tutkimusintressini on tarkkailla ja tutkia palvelumuotoilun roolia julkisen palvelujen kehittämisessä maailmanlaajuisesti ja kansallisesti ja myös tunnistaa keskeisiä tekijöitä, haasteita ja hyviä käytäntöjä jotka perustuvat tässä pro gradussa käytettyyn kirjallisuuteen ja haastatteluihin.
Tässä työssä tärkein tavoitteeni on analysoida seitsemän palvelumuotoilun ammattilaisten haastatteluja ja nostaa esille sekä avata avaintekijöitä joilla on positiivisia tai haastavia vaikutuksia palvelujen kehittämiseen julkisella sektorilla. Löydöksien paikkaansa pitävyyttä reflektoin kirjallisuuden ja palvelumuotoilussa käytävien keskustelujen kautta. Tämän seurauksena pystyn tunnistamaan seitsemän eri ilmiö, joilla on keskeinen rooli palvelun kehitysprosessissa: (1) iso osa työkaluista on asiakasymmärryksen ja konseptisuunnittelun tukena, (2) haastattelujen perusteella palvelumuotoilun työkalut eivät tue uuden palvelun lanseeraamista ja juurruttamista, (3) oma-aloitteisuutta ja sitoutumista tarvitaan, että prosessia pystytään viemään organisaatiossa eteenpäin, (4) organisointi, päätökset ja ylläpitäminen erityisesti ovat haasteina konseptin viemisessä toteutukseen, (5) uuden palvelun lanseeraamisessa on paljon haasteita, joihin haetaan vastauksia.
Lopputuloksena esitän suosituksia julkisen sektorin palvelumuotoilijan työssä toimiville, jotka pohjautuvat tässä pro gradussa tunnistettuihin hyviin käytäntöihin ja haasteisiin.
Samankaltainen aineisto
Näytetään aineisto, joilla on samankaltaisia nimekkeitä, tekijöitä tai asiasanoja.
Zsifkovits, Danielle

Acta electronica Universitatis Lapponiensis : 330

(

Lapin yliopisto

,

2022

)

Service design is a relatively new discipline (when compared to graphic design) that draws on the methods and concepts of various other disciplines, inside and outside of the design realm, to achieve innovative solutions ...

Konola, Sanna

(

Lapin yliopisto

,

2014

)

Research examines participatory design from the perspectives of clothing design, design activism and co-design through engaging users in a participatory clothing design process. Design for sustainability serves as a ...

Jylkäs, Titta

Acta electronica Universitatis Lapponiensis : 290

(

Lapin yliopisto

,

2020

)

Digitalization and the growing service economy place challenges on organizations for transforming their service offerings to match the high user expectations. Services increasingly exploit digital technologies which play ...