Teollista muotoilua alihankintana: Case Muodonmuutos ja Sandvik Mining and Construction
Heino, Minna (2017)
---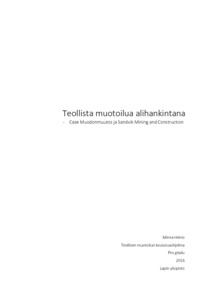 Lapin yliopisto
2017
openAccess
Julkaisun pysyvä osoite on
https://urn.fi/URN:NBN:fi:ula-201701241025
Tiivistelmä
Tutkimuksessani pyrin ottamaan selvää, miten muotoilua hyödynnetään asiakasyri-tyksessä. Pyrin myös tunnistamaan haasteita, joita muotoilun alihankintaan liittyy, ja pohtimaan, miten yhteistyötä olisi mahdollista kehittää. Asettamani tutkimusky-symykset ovat: "Miten asiakasyritys hyödyntää alihankittua muotoilua?" ja "Mitä haasteita on alihankitun muotoilun hyödyntämisessä?".
Tutkimukseni aineisto koostuu teollisille muotoilijoille ja asiakasyrityksen edustajille tekemistäni teemahaastatteluista sekä yhteistilaisuuksista. Aineisto on analysoitu laadullista sisällönanalyysia käyttäen. Lisäksi olen tarkastellut löydöksiä aiempien tutkimusten ja kirjallisuuden valossa. Aineiston analyysin pohjalta olen tunnistanut useita muotoilun käytön syitä, sekä syitä hankkia muotoilua nimenomaan alihankin-tana. Muotoiluyhteistyöhön liittyvät haasteet ovat tutkimukseni pohjalta moninai-sia liittyen esimerkiksi muotoilun hyödyntämisen mekanismeihin asiakasyrityksessä, muotoilun ymmärrettävyyteen ja muotoilupalveluiden selkeyteen.
Vaikkei tutkimustani välttämättä voi suoraan yleistää muihin yhteyksiin, uskon siitä löytyvän samaistumispintaa kaikille, jotka ovat tekemisissä muotoilun alihankinnan kanssa – olivatpa he muotoilupalvelun tarjoajia tai sitä hyödyntäviä.
My pro gradu thesis studies subcontraction of industrial design. I study an arrange-ment, where the client company doesn't have an internal design organisation, but chooses to acquire all design from outside sources. The study is a qualitative case study. The case in my study is the co-operation between industrial design company Muodonmuutos and their client Sandvik Mining and Construction.
In my study I define how outsourced industrial design is utilized by the client com-pany. I will recognize the challenges related to co-operation. I will also consider how co-operation could be developed. The research questions of this study are: "How does the client company utilize outsourced industrial design?" and "What challen-ges are there in utilizing outsourced design?".
The research data consists of theme interviews I executed to industrial designers and a number of personnel from the client company. The data also includes sessions where the subject was processed by the participants. The data is analysed using methods of qualitative content analysis. I have also compared results in the light of previous studies. I have recognized multiple resaons of utilizing industrial design, in particular from outsourced sources. The challenges in co-operation are multifa-ceted, and are related for example to mechanisms of design utilization in the client company, the understandability of design and the clarity of design services.
Even though the study can't be straightforwardedly generalized to other contexts, I believe anyone who works in the field of design – either providing or utilizing design services – can benefit from it.
Samankaltainen aineisto
Näytetään aineisto, joilla on samankaltaisia nimekkeitä, tekijöitä tai asiasanoja.
Zsifkovits, Danielle

Acta electronica Universitatis Lapponiensis : 330

(

Lapin yliopisto

,

2022

)

Service design is a relatively new discipline (when compared to graphic design) that draws on the methods and concepts of various other disciplines, inside and outside of the design realm, to achieve innovative solutions ...

Konola, Sanna

(

Lapin yliopisto

,

2014

)

Research examines participatory design from the perspectives of clothing design, design activism and co-design through engaging users in a participatory clothing design process. Design for sustainability serves as a ...

Mieskolainen, Arto

(

Lapin yliopisto

,

16.02.2023

)

Tutkimuksen tarkoituksena oli ymmärtää muotoiluprojektien päätöksenteon kannalta olennaisia ominaisuuksia. Tämä saavutettiin käyttämällä monitieteellistä lähestymistapaa, johon kuului autoetnografinen päiväkirja, ...